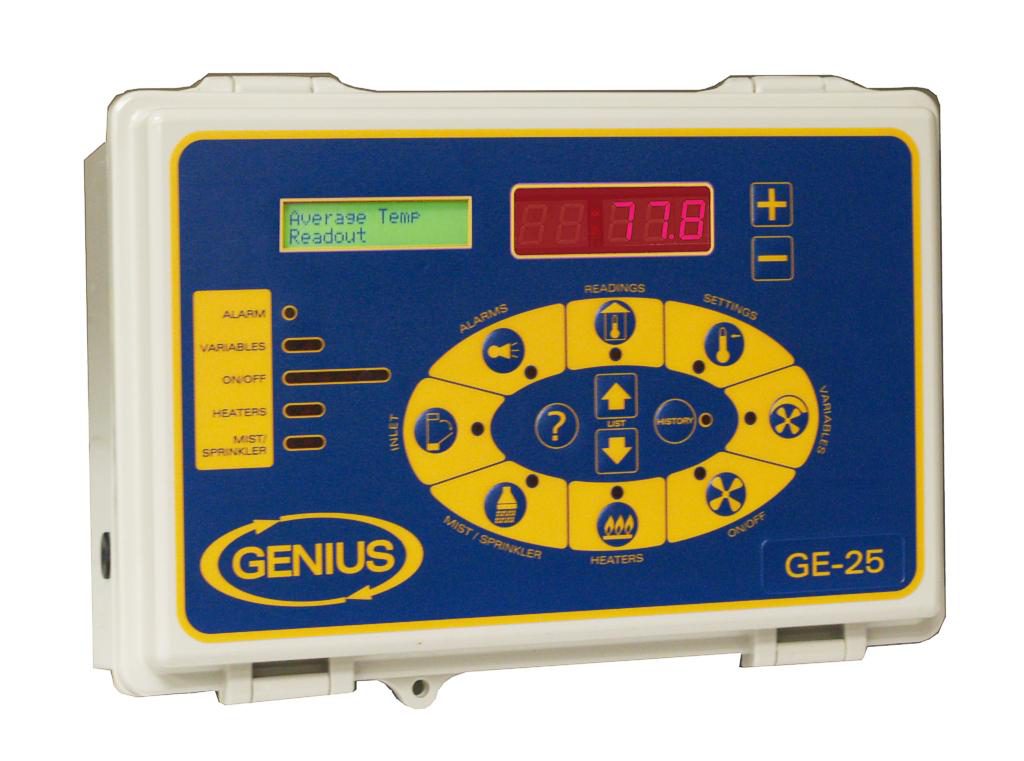 GE-25
Designed to be flexible, GENIUS controllers can be adapted to provide a high level of comfort in almost any ventilation situation.  The attractive feature rich design of the GE-25 controller combined with an easy to use multipurpose design interface and unparalleled reliability has created a large following of admirers for this controller.  The faceplate features eight hot key buttons and easy to use list buttons for a direct access to any parameter.  The history button gives you access to 30 days of controller history.  The question mark button provides you with on screen help.  If desired, the GE-25 can also control an inlet or curtain using a potentiometer.
Simply said, the GE-25 packs a powerful punch!
 Overview
User-friendly interface (hot keys)
2 line by 16-character LCD screen
Up to 2 independent variables
Up to 5 relays
Up to 6 inputs
1 Alarm output
Integrated information for all parameters
Rugged and sealed enclosure
CSA approved
2-year limited warranty
Output Features
Up to 2 independent variable ventilation stages come standard.
Add optional GE-V1 or GE-V2 to boost stage amperage.
Up to 5 on/off ventilation stages
Up to 2 heaters
Up to 1 air inlet (by using 2 of the standard 5 relays and 1
potentiometer input)
Up to 1 mister/sprinkler
Input Features
Up to 4 inside temperature probes
Up to 1 outside temperature probe
Up to 1 humidity probe
History Features
30 days of daily history integrated in controller for the following: ◦ Temperature probes (minimums and maximums)

Humidity probe (minimums and maximums)
Heater run times (minutes heater has run, per day)
Remote access, monitoring, data logging and management
The GE-25 controller amounts to much more than a user-friendly controller when teamed up with the FarmQuest online management service.  Together, they make for a powerful management tool that you can access from anywhere in the world.  Your controller is connected to the FarmQuest server, which constantly uploads data and enables you to easily view, analyze and compare results with those of current or previous production batches.  Also, when an out of limits condition exists, FarmQuest automatically sends you a warning by email or SMS text messaging.
The GE-25 controller is also compatible with our WiFarm wireless network, specifically created for farm applications.  Its easy installation eliminates trenching and underground wires that can increase the risk of lightning strikes.
The WiFarm wireless network and FarmQuest online management service have been designed exclusively for the livestock industry by M2M TeleSystems. To learn more about these, click on their respective logos below.