With a wide selection for mill equipment, from hammer mills, to screens, hammers, down spouting, clamps, angle flanges and elbows, SCLE has what you need. Whatever your project, whether a new build or repair, we have the stock and expertise to help keep your operation running smoothly.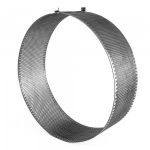 Hammer mill screens of various sizes ranging from 7/64 – 3/4 in stock. Most common screen diameter is 18". Modern…
More Info
Scroll through our products to see what we offer. Or, if you're unsure what you're looking for, or can't find it on our website, contact us and we'll help you get started.
We also have 2 getting started guides. Learn how to get started with a hog barn or chicken barn.