Monitrol Genius GE Bin4 Feed Bin Monitoring System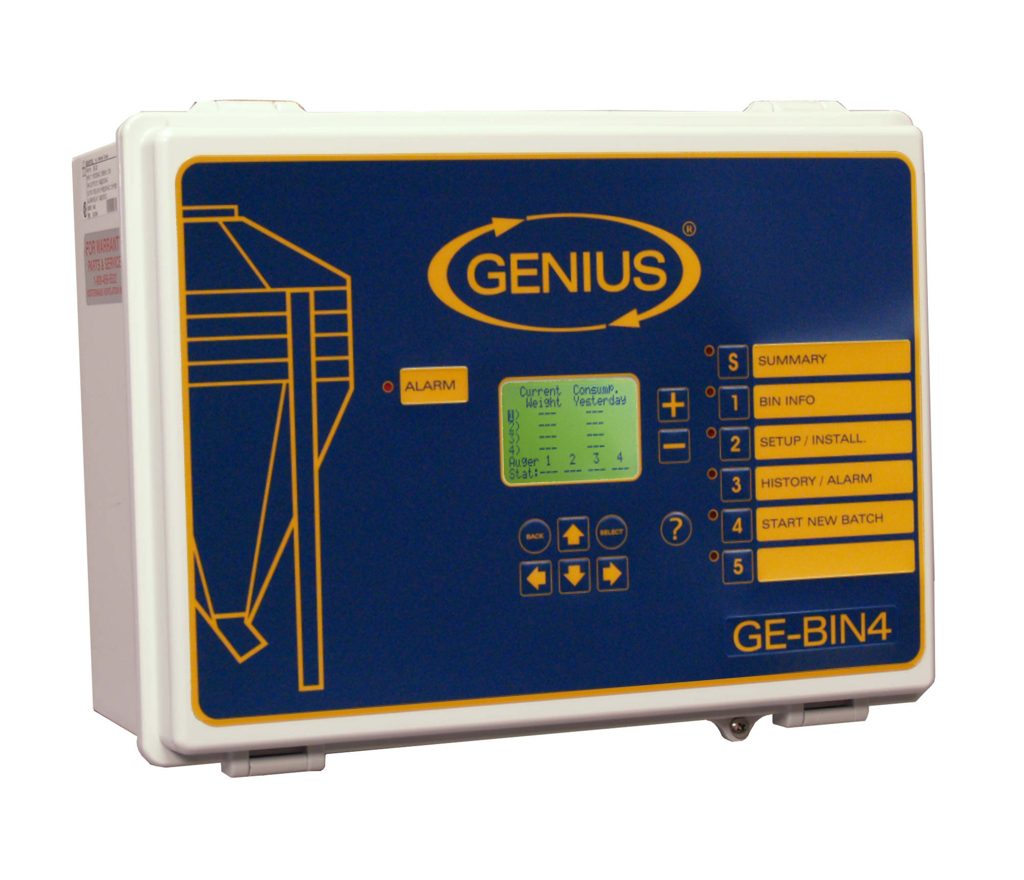 GE-BIN4 Feed Bin Monitoring System
The GENIUS Feed Bin Monitoring System is an easy and effective way to monitor and manage your real time feed bin inventory levels and feed consumption rates.
The system eliminates the need for farm personnel to climb feed bins in order to check current feed levels, and therefore reduces risks of accidents and labor costs.  While the system prevents your animals from running out of feed, it also gathers important information about their health.
Components
This system consists of a GE-BIN4 controller, which monitors up to 4 feed bins.  Each feed bin is fitted with one feed bin transmitter, or GE-FBT, which transmits information from the feed bin's load cells (up to 6 SB-15K/KIT) to the GE-BIN4 controller via the GE-LIM (Lightning Isolator Module).
 One GE-BIN4 Controller ◦ Connects to up to 4 feed bins.

Monitors current bin weight and daily consumption.
Confirms the weight of all feed deliveries.

 One GE-FBT Feed Bin Transmitter per feed bin ◦ One GE-FBT equips each feed bin.

The GE-FBT is connected to the load cell located on each leg of the feed bin.
The GE-FBT transmits data from up to 6 load cells (SB-15K/KIT) via the GE-LIM module to the GE-BIN4 controller.

SB-15K/KIT Load Cells ◦ Located on each leg of the feed bin, the load cells measure feed load even under extreme weather conditions.
GENIUS GE-BIN4 Controller
GENIUS GE-FBT Feed Bin Transmitter
General Features
Remote access, monitoring, data logging and management
Modular hardware design
Rugged and sealed enclosure
CSA approved
2 year limited warranty
Interface Features
Easy to use navigation buttons
Menu driven 8 line by 21 character LCD screen
5 hot keys for quick access
Integrated on screen help for all parameters
Remote access, monitoring, data logging and management
The GE-BIN4 controller amounts to much more than a high performance controller when teamed up with the FarmQuest online management service.  Together, they make for a powerful management tool that you can access from anywhere in the world.  Your controller is connected to the FarmQuest server, which constantly uploads data and enables you to easily view, analyze and compare results with those of current or previous production batches.  Also, when an out of limits condition exists, FarmQuest automatically sends you a warning by email or SMS text messaging.
The GE-BIN4 controller is also compatible with our WiFarm wireless network, specifically created for farm applications.  Its easy installation eliminates trenching and underground wires that can increase the risk of lightning strikes.
The WiFarm wireless network and FarmQuest online management service have been designed exclusively for the livestock industry by M2M TeleSystems.  To learn more about these, click on their respective logos below.