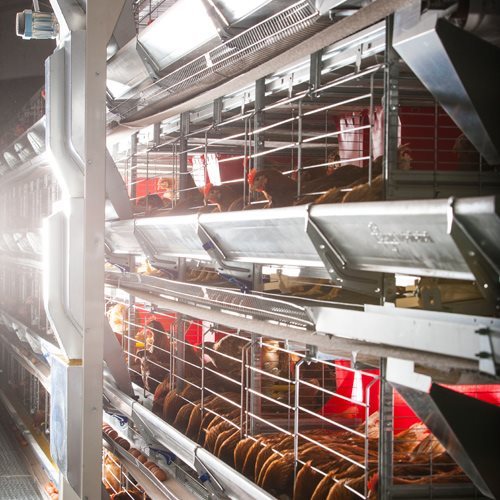 Conventional Cage Systems
The conventional systems for layers, developed by Tecno, provide a range of products of different sizes, designed to optimize the available space and volume. They are systems built with advanced technology and cutting-edge production systems. Among the best advantages of our systems, there is the possibility of having a higher stocking density and ease of movement of the animals on the various levels. Moreover, they are equipped with cleaning belts which allow greater hygiene and animal welfare, guaranteeing a high level of production at a lower cost.
Aviary Cage Systems
The aviaries for layers model AS, developed from the concept of layers on the ground, are characterized by a specular structure composed of overlapping and staggered levels. The main characteristic of this system is the continuous, overlapping nests, with centralized animal expulsion mechanism and a perforated egg collection belt. The ease of movement of the layers inside the aviary, allows access to the feeding, watering and laying areas, guaranteeing a uniform distribution of the animals in the plant. These aviary systems for layers include transverse and longitudinal closures for the division of the birds into small groups. Corridors for the inspection and monitoring of the areas facilitate your activities.
The VS aviary models are the result of Tecno's experience for systems on overlapping levels, allowing the layers to enjoy the rows and floors in complete freedom of movement, including the ground. The position of the nests, facing the corridor, allows for the inspection and collection of the eggs. Each level is characterized by the presence of a feeding chain, watering line, perches, nests, egg collection and manure belt.