Windlift 5000 lb. Ceiling Winch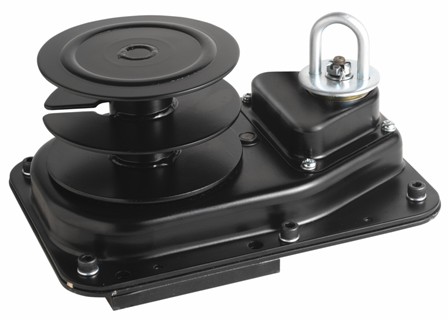 5000 lb Capacity

 

Easy to Install – Weighs Only 21 lbs.

 

Completely Sealed – Maintenance Free

Can use with winch slings, strap kits, or cable

5000 lb. Capacity

 

2500lb working load (1250lbs. pulling in opposite directions)

 

90:1 Ratio

 

2″ diameter divided reel

 

Holds approximately 64′ of 3/16″ cable

 

Reel is pre-drilled and tapped to accept strap kit

 

Can Replace 2 Conventional Winches

 

Exclusive 5-Year Warranty

 

Oven-cured epoxy coating lasts longer than conventional zinc, chrome or enamel finish

 

Shafts and gears are made of high tensile alloy steel

 

All gears are heat-treated, high-carbon steel to provide longer life

 

Recommended 2:1 double-back for loads exceeding 2500lbs.